Weddings from a chef's point of view
Our head chef Tony has been in his current position at The Falcondale since October 2017 and has over 20 years' experience within hotels / restaurants and event catering. We thought we'd fire some questions at him and share his experience of the industry with you – especially when it comes to catering for weddings.
Your advice to brides and grooms when choosing their menus?
Prioritise your desires. If the food element of your wedding is high up on your list, then allocate your wedding budget accordingly. It could be that you'd prefer to spend more on "the dress" and that 8-piece band you absolutely love. Let us know, as we can alter dishes and presentation to suit your day and budget. This does not mean that the quality of the food or service will be compromised, only the realism that an Oyster bar will more expensive than standard canapes.
Choose a menu for you, what you like to eat, and let your guests know your reasonings for your choices. They are far more likely to get on board your train of thought and accept that the day is about you, and not them.
What are your biggest likes and dislikes when it comes to catering for a wedding?
The most amazing feeling is receiving feedback from the bride and groom after the event is over. By the time we get to the wedding day itself we would have spent hours fine tuning and preparing – including taster sessions / pictures of the dishes / reading and re-reading the menu etc. etc. To hear that the effort was worthwhile is amazing.
My biggest dislike (which I'm sure many other chefs would agree with me), is guests not telling the bride and groom or even the venue about their dietary requirements. There are many situations involving people's health that require a specific diet and I have no problem in accommodating these requests. However, trying to conjure a vegan dairy free dessert at the 11th hour whilst feeding 120 guests is quite a tall order. I kindly request that we are made aware of these dietary requirements in advance (at least a week in advance – please).
What are your thoughts on the latest trends of Grazing or Feasting tables?
For me it's just fancy words for a buffet, would you agree? Maybe I'm being a little harsh on this point.
With a buffet you'll have a selection of options from a buffet table which include carved meats, bowls of salads, dressings, dips, coleslaw, maybe some hot options and a bread roll – all individual elements which when brought together makes a complete plate of food.
A grazing table would be a large display table full of dishes, such as mini fish & chip cones with tartare sauce, mini brioche buns filled with a Welsh beef patty and red onion marmalade, softly poached quail egg with an asparagus sprig, falafel and cous cous food bowls. Portions that are a little bigger than canapes and be picked up by the guests haphazardly over a longer period of time.
A feasting table is what you'd expect to see at Harry Potter, all the food in the middle of the table where the guests are sat with platters of food to share in the middle. Kind of like a private buffet for each individual table, which gets people talking and mingling with each other naturally.
What I like to do (especially for the evening part of the weddings), are food platters. Such as Welsh cheese with oatcakes, chutneys, apples, celery and grapes. Alongside this serve a charcuterie platter of salami's, pepperoni, bresaola with olives, gherkins, roasted nuts and artisan breads.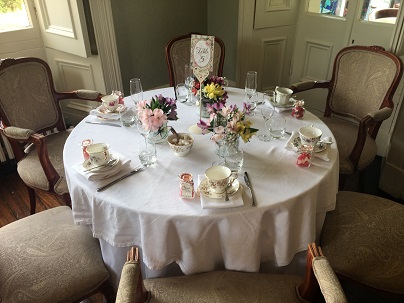 What is your food philosophy?
Local & seasonal – whenever and wherever possible.
No matter your budget or what dishes you choose I try and source these locally to The Falcondale. There is such a vast array of producers within the county of Ceredigion and its neighbour's in Carmarthenshire / Pembrokeshire and Powys that we would be amiss to ignore them.
There is an expectation to provide menus within a wedding brochure, which is quite ridiculous really when at that stage you don't even know what time of year the wedding will take place. This results in generic menus that sounds the same as any other venue. When I have the opportunity, I would prefer to offer specific seasonal options to brides and grooms that could also strengthen their vibe and hopes for their day.
Anything else you'd like to add?
Come up for a tasting of your dishes before you make your final decisions on a menu. I make a judgement call on what I think would look good dependant on your choice. This may not always match with your expectations and so please be honest about your feedback. Do you want it to look differently? Maybe it wasn't what you thought? Do you want a different garnish on the side?
Once you are happy and you've made your decision we will put the wheels in motion and start planning the ordering of produce.
Our aim has been to offer suggestions that could be applied to The Falcondale hotel & restaurant, a four-star country house hotel located just outside Lampeter in Mid Wales.
Peek at our Wedding page for details on packages.
To book a showaround give us a call on 01570 422910 or email weddings@thefalcondale.co.uk