Ceredigion Beaches in October
We are now into October and I'm allowed back on the beaches in Ceredigion. With the sun shining mum decided that it was beach day and wanted to go to Mwnt.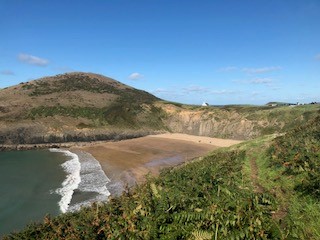 Dogs on the beach
Mwnt beach is around 40 mins away from the Falcondale located between Cardigan and Aberporth. After driving through the country lanes, you come to the top of the hill looking down on the beautiful sandy cove with an iconic white church on the right.
Ceredigion Coastline walk
I walked up Foel y Mwnt and along the coastal path where there were steps to go down to the sand. When the weathers clear you can see the mountains of Snowdonia over Cardigan bay and Mwnt is one of the best beaches to spot dolphins. I didn't give mum a chance to look for these though as I wanted to get to the top of that hill as quick as possible, stand at the top sniffing the air and run back down dragging her along behind me.
With a café, toilets and a car park there's all the amenities to keep everyone happy (usually involving a trip to a coffee shop) and I got to splash around in the stream by the kiosk!
A good doggie day out!